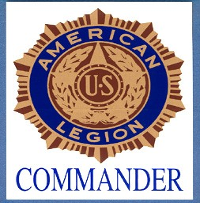 The American Legion is a strong builder of America. For the past 100 years, we have defended: the Laws of this Land, Respect for the Flag, Honor for Veterans, and Education of our youth.
I appreciate (and thank) all who have participated… Some with their yearly membership, some with their time and energy to help the American Legion function, and those who go beyond the "Call of  Duty". This year I ask a little bit from each of us:
A little bit more Joy
A little bit more Patience
A little bit more Love
A little bit more Participation
A little bit more Respect
A little bit more Thankfulness
A little bit more Time developing friendships
We can meet new and old friends by participating in some Post functions this year, i.e. meetings, Hamburger/Hot Dog/Bingo night,
Pizza night (New), Post dinners, and celebrations.

The Mayo Clinic reports results of numerous studies about friendship. Good friends are good for your health!
Friends can:
Increase your sense of belonging and purpose
Boost your happiness and reduce your stress
Improve your self-confidence and self-worth
Help you cope with traumas, divorce, illness, job loss, or the death of a loved one
Encourage you to change or avoid unhealthy lifestyle habits, such as excessive drinking, eating, or lack of exercise
Adults with strong social support have a reduced risk of significant health problems, including depression, high blood pressure, and an unhealthy weight. Older adults with a rich
social life are likely to live longer.
Genuine friends:
Push us to be more accepting of others
Call us out when we are in the wrong
Are present and really listen
Support us through adversity
Keep our stress in check
Keep us humble
Have our backs, even when life gets "tricky"
Make the friendship a priority
Practice forgiveness
Make us want to be better people
Q: What is some time spent with Friends?
A: A Good Time!
Please call the Post if you need any help, and also if you are available to assist in any manner.
Call – (503) 648-7191
Please leave a message
or
Click HERE to Fill out our Contact form
Bob Gnos- Commander
Save
Save
Save
Save
Save
Save
Save
Save
Save
Save
Save