The Weather and Gratitude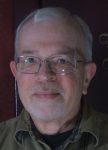 I used to like the brief exposure to Oregon winter time snow and ice when I was younger, now it's not so much fun. I'm glad we have thawed out and I hope we are done with it for this year. Filling the Adjutant's position gives me the opportunity to inspire others in our common causes of support for Veterans health and welfare, Children and Youth, a strong National Defense and Americanism. I'm grateful to represent the organization in these areas and pray for the strength and ability to carry out the mission. It's hard to remain motivated at times. What I need is your  encouragement and support. The work of maintaining the Post and taking care of the paperwork is never finished.
We are making slow progress in our remodeling efforts and I'm grateful for the efforts of all who have contributed their time. Still, we could use more help. My point of this is to ask, what more can I do to serve you? What do we need to do collectively to stimulate enthusiasm and participation? I'm not getting any younger and neither are most of you and our numbers reflect this demographic.
We do quite a lot in the course of a year with our Saturday market booth, Halloween booth, North Plains Garlic Festival, 4th of July parade, Pioneer Cemetery Memorial Day ceremony, various Veterans Day activities and also presentations at our local schools during the year. We have recently been called to perform a flag raising ceremony at a local business. To our credit, we do quite a lot in our community but to keep these activities alive, we need your help. Also an idea that I think is worthy of consideration is that we sponsor an event or program that the community can look to us to perform on a regular basis. Something new, something that will attract the younger generation of veterans. We own a large building that sits largely unused and empty most of the time. How can we better use it to promote our causes and benefit our community? So what's the next step?
Where should we be going next? Send me your suggestions. I know this has been a recurring request, but we have a commitment and your dedication is needed most of all.
I'm grateful that you have allowed me to serve.
David Bogner – Adjutant
Save