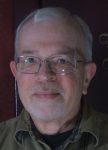 Merry Christmas Legion Family! I hope your Christmas celebration brings joy and peace and the coming New Year brings renewed hope for our country and the wisdom and strength to serve those who protect it, past and present.
As some of you may already know, Portland will host the commissioning of its namesake, the USS Portland, LPD 27. The ship is part of the Navy's fleet modernization program to be more effective in littoral waters around the globe.
The Navy League has offered to send a representative to our January regular meeting on the 9th to give a presentation on the commissioning ceremony which is scheduled for Saturday, April 21, 2018 at Terminal 2, in Portland. The talk will commence at 1900.
Complementary Tickets to the commissioning are provided by the U.S. Navy and are available on a first-come, first-serve basis. To request tickets on-line, go to:
http://ussportlandlpd27.org/index.php?i=TicketRequest
General questions may be mailed to:
Navy League of the United States
P.O. Box 2985
Portland, Oregon 97208
See you at the January meeting!
David Bogner – Adjutant
Save