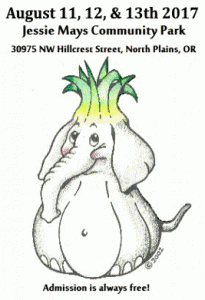 We just finished a very successful Garlic Festival. The weather was great except for a little rain overnight Saturday and a few sprinkles on Sunday morning.  We had about 20 Legion, Auxiliary, SAL and family  members work 203 hours to make this happen.  It went from getting the corn cooker hauled to the festival, to setting up the booth, to tearing down the booth and cleaning everything up and getting it put away.
We sold 1100 ears of roasted corn along with water and soft drinks.  It takes at least 4 people to run the booth at one time.  We had repeat helpers and first- time helpers.  We all came together to make it happen.
This is a big fund raiser for the Legion and Auxiliary.  Most of the money that the Auxiliary gets from this project goes to funding Girls State.  The Legion puts it in their General fund to help cover their yearly expenses.
Our biggest problem is getting volunteers.  We are all getting older and we need more help.  The Garlic  Festival in always the second week in August.  Mark your calendars and let us know that you would like to help.  All we ask is if you can give us 4 or 5 hours of your time.  It can be fast paced at times.
Thank you to everyone that helped make this an enormous success!!!
Linda Liebenow